Mount Kenya Climbs
Mt. Kenya, Africa's second highest peak is regarded as the realm of Ngai, god of the local Kikuyu people. Traditionally, all Kikuyu home were built to face this sacred peak. They call it Kirinyaga, or place of light. The mountain is an awe-inspiring sight. Its ragged series of peaks are crowned with snow, and its slopes are thick with forest. The mountain is best seen at dawn, when the day's early light silhouettes its impressive summit high over the surrounding plains.
While the 5199 meter summit is a difficult technical climb, the lesser peak of Point Lenana (4985m) can be easily reached by any fit trekker. This trek takes between 3 and 5 days, through a fascinating world of forests, wildlife, and unique montane vegetation including pod carpus and groundsel, and finally one of the world's rarest sights, equatorial snow.
Mount Kenya has three main peaks, the two highest are highly technical (Batian and Nelion) and are rarely climbed in comparison to the third peak called Point Lenana which is a trekking peak.
There are several routes up the mountain. A team of guides, porters and cooks will accompany you and perform any menial tasks, allowing you to enjoy the experience free from the burden of carrying heavy gear, gathering water, finding your way on the mountain and making meals.
Itineraries can be tailored to suit your requirements with varying durations of between 3 and 10 days with camping or banda accommodation along the way.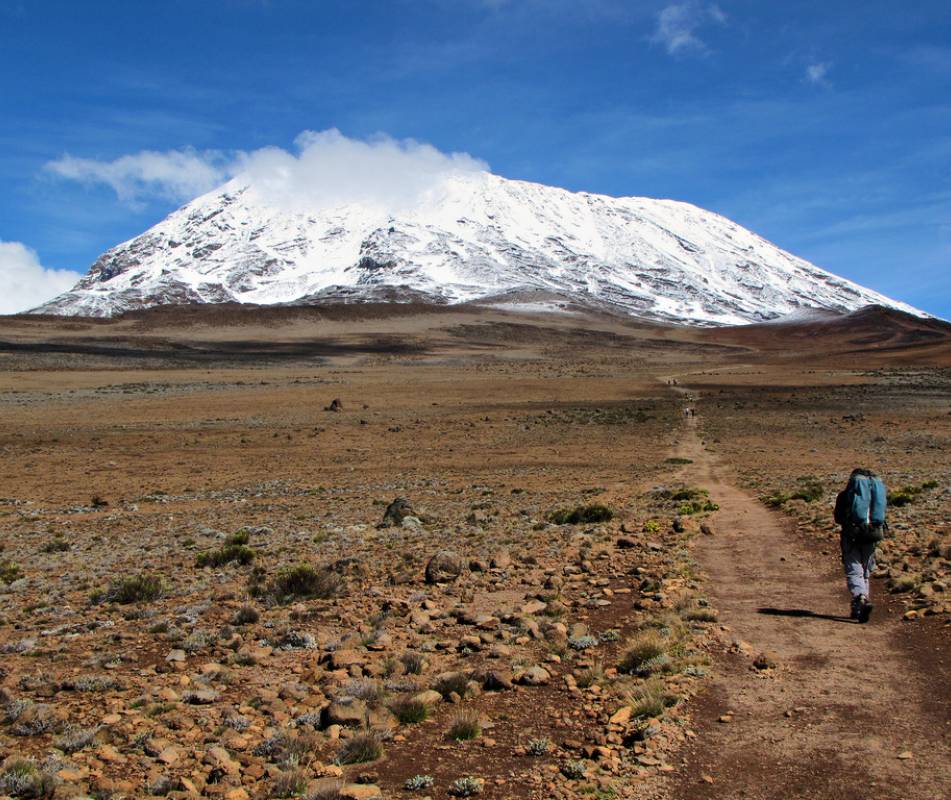 Mt. Kilimanjaro Climbs
Located in Tanzania, Mount Kilimanjaro is Africa's tallest mountain at about 5,895 meters (19,340 feet). It is the largest free-standing mountain rise in the world. Mount Kilimanjaro is a place of myth and folklore. Located just 200 miles (325 km) from the equator, the mountain defies logic with its crown of ice.
Every year, over 30,000 people come to Tanzania to climb Kilimanjaro. Indeed, it tops the bucket list of many keen hikers and peak-baggers, those attempting to reach a collection of summits. Not only is its Uhuru Peak the highest point in Africa, but it can be summited without specialized mountaineering experience or equipment.
The duration of a Kilimanjaro climb is almost invariably agreed in advance and will depend upon several factors. These include the route you opt to take, as well as your budget, your level of fitness, and how much time you allow for acclimatization.